A week of recognition: my favourite kind of week!
Ottawa, ON - June 17, 2016
The week started off at the Royal Canadian Legion's Dominion Convention, where I had the honour of presenting the Veterans Ombudsman Commendation to the Royal Canadian Legion Ontario Command for their Leave the Streets Behind program. It was wonderful to see them recognized not only by my Office, but also by their nearly 1,400 Royal Canadian Legion colleagues from across the country.

The following day, I met with my Advisory Council to discuss issues of concern to the Veterans' community. It is always great to meet with the council to hear perspectives from these members representing diverse groups and views from across the country.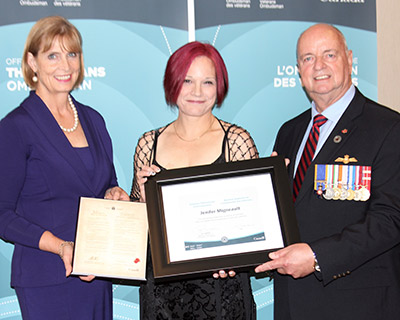 That evening, I had the opportunity to recognize the other three recipients of this year's Commendation at a ceremony with my Advisory Council present. Allan De Genova, Jenifer Migneault, and Lorne McCartney (posthumous) are each incredibly deserving of the Commendation for their dedication and efforts onbehalf of the Veterans' community. I felt privileged to honour Jenifer and Allan in front of their loved ones and to present Lorne McCartney's Commendation to his wife and children.
Providing Lorne's family his
Commendation for his lifetime contribution was particularly moving, as Lorne
was not only a trusted member of my Advisory council, but also a friend, for several years. Lorne's family should be proud of the mark he has left on the Veterans' community and the many lives he touched with his service and advocacy for Veterans and their families.
The next day, my team came together for a day that began with hearing from a panel of experts on post-traumatic stress disorder (PTSD). The diverse group of family caregivers, physicians, Veterans, and those who support them provided valuable perspectives. Their experiences were incredibly touching and shed light on the effects of PTSD and the difficult reality faced by so many struggling with it.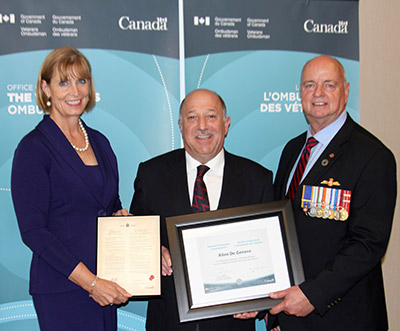 My team and I were grateful for them being so open with their experiences and left with a deepened understanding and appreciation of the needs of our clients who face the same struggles.
The day ended with members of my team visiting 12 Wing Shearwater, where their understanding of the realities of service was expanded through a tour of the Sea King and Cyclone aircraft and hearing firsthand from Canadian Armed Forces members about their experiences. Meanwhile, my Deputy and I hosted a Stakeholders' Meeting where representatives from Veterans' groups, local government officials, and health care practitioners shared their insights on issues facing Veterans and their families and we discussed the way forward.

Finally, on Thursday June 16th, given that this week is National Public Service Week, my Deputy and I honoured some of the members of our team by presenting appreciation and long-service awards. Having the opportunity to learn from and recognize members of the Veterans' community and of my team made this week incredibly insightful and motivating.

A common theme throughout the entire week was the importance of families. The crucial support of family members and importance of supporting them was something that was reinforced again and again in our discussions, and is an issue my Office continues to hold as a priority for our work.
Again, it was an incredibly insightful and productive week; thank you to all those who contributed!
Guy
You can read more about all four recipients on our Veterans Ombudsman Commendation Recipients page.
Comments
PTSD said:
I am a still serving member...for how long not sure yet... and am struggling with the same medical conditions...I want to thank in advance all the people that help us cope with this terrible mental disease and understand the stigma and effects it has on the soldiers family life...I also want to personally thank the honorable Mr. Guy Parent for his devotion to put family 'FIRST' in his quest to change the way we see the suffering impact it has...Once your military career is over the only thing you have left is your family!
August 14, 2016 2:57 PM
Office of the Veterans Ombudsman replied:
Well said and thank you for your kind words, but the credit goes out to my entire team as well.
August 15, 2016 10:11 AM