Joint Transition Project - Closing the Seam
Ottawa, ON - September 26, 2016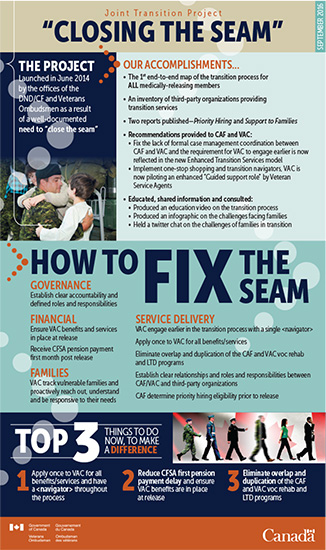 There is a well-documented need to ensure that the transition process for medically-releasing Canadian Armed Forces (CAF) members is as seamless as possible. To that end, in June 2014, we, as National Defence and Canadian Forces Ombudsman and Veterans Ombudsman, partnered on a joint project, leveraging both of our mandates to review the entire transition process, from the time the member is injured to after being released from the CAF.
The goal of that project was to:
Identify the challenges facing medically-releasing members at the various stages of the transition process;
Identify areas where support to families could be improved; and
Develop recommendations aimed at simplifying the process for members and their families, providing greater support when needed, and harmonizing the efforts of the CAF and VAC.
Over the last two years, we have accomplished a great deal. We:
The joint project has now concluded and as a summary, we have developed an infographic with our key findings and recommendations. It also identifies the "Top 3 Things To Do Now" and key actions needed to close the seam. We will both continue to monitor and push for change in areas that fall within our respective mandates. Together we can make a difference.
Comments
Steve said:
I have been a Service Officer for the Royal Canadian Legion Br #4, Chilliwack BC, for the past 12 years, thus I would like to see this information, so that it might help me to be a better service to those who need it. Thank you.
September 28, 2016 11:34 AM
Office of the Veterans Ombudsman replied:
Thank you for your comment Steve. Within the blog itself we have embedded links to the documentation mentioned and available on our website so that it can be viewed by anyone interested.
September 28, 2016 11:44 AM