My Thoughts on Veterans Week and Remembrance Day
Ottawa, ON - November 9, 2016
Veterans are tightly woven into the fabric of our daily lives. They are our hockey and softball coaches, our small business owners, our community firefighters and police officers, our municipal leaders. For the most part, we are not even aware that they are Veterans. But, once a year during Veterans Week and on Remembrance Day, we have the opportunity to reach out to them, to honour them for their sacrifices and to thank them for their service to Canada.
Veterans Week and Remembrance Day are not just dedicated to those who gave their lives so that we can enjoy the freedoms that we have today. They are also dedicated to those who returned injured or ill, to those who continue to serve and, in all cases, to the families that have stood by them in the past and continue to do so today and every day of the year. The opportunity to meet with and to see some of them at various ceremonies at this time of year is a true honour and a constant reminder that we can never forget that their service has made this country great.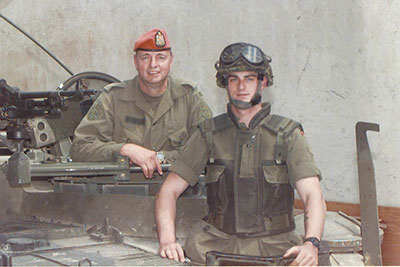 Personally, there are special people that I honour at this time of year. I certainly think of my son, Dan (pictured), who spent time in the Army. I am grateful that as an infantryman and a respected member of the Canadian Armed Forces during missions in the Former Yugoslavia, Bosnia and in Afghanistan, he was spared any serious injuries.
I also think of the many team members that I lost during my years as a Search and Rescue Technician "So That Others May Live" (our motto). I especially remember my best friend who died during a rescue mission a few months after our graduation.
My years of service have taught me to never take anything or anyone for granted, to treat our Veterans and their families with compassion and respect, and to be forever mindful of the debt we owe them.
This year, I encourage you to participate in the many activities being held in support of Veterans and their families in communities across Canada. Take time to talk with them and listen to their stories. You will then understand, if you don't already, why it is so important that we keep our promises and honour our commitments to them and their families.
Guy Parent
Veterans Ombudsman
Comments
Helen. said:
I was 7 years old in 1939, I lived in Scotland and so was spared a lot of the worst things like the Blitz on the English Cities, I do remember one Sunday Morning in 1942 I think when my family had just moved house to the outskirts of the city, my Mother saw dark spots rising in the sky over where she thought we used to live she and my Dad went to find out and saw tragedy a Land mine had it Whiskey Distillery the night before our old home was just a shell she spots my Mum saw were barrels of whiskey. I had many friends who lost Fathers, brothers, and sisters. that was the war to end all wars. Will this world ever learn that violence is never the answer. in my life I have seen so many generations of young men disappear for our FREEDOM, May the Lord Bless each and every one who served in any capacity and give peace to those who still live with the horrors of war
November 11, 2016 10:55 PM
Office of the Veterans Ombudsman replied:
Thank you for your comment and for sharing your personal story.
November 14, 2016 9:00 AM