The Veterans' Service Experience: Hearing from you
Ottawa, ON - July 10, 2017
Recently, I wrote a blog about the Veterans' Service Experience and asked my Facebook and Twitter followers this question: "From a Veteran's perspective, are VAC benefits and services well communicated to Veterans and their families?" You responded that it's difficult to access information about benefits. Also, many of you expressed dissatisfaction with the complexity and paperwork required to access VAC benefits, and are disappointed by the delayed responses to your benefit requests.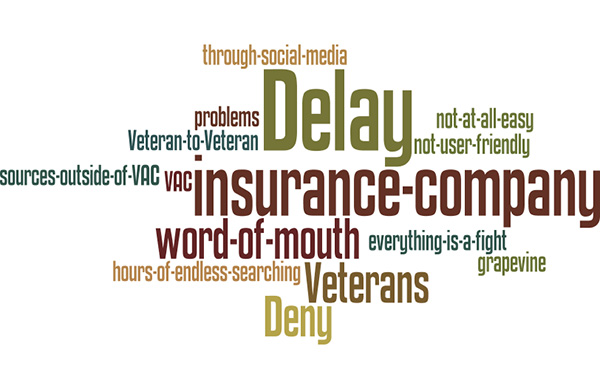 We're taking a closer look at service delivery with a keen focus on the timeliness of VAC's responses, the complexity of the benefits that are being offered, and the clarity of what is currently communicated to Veterans.
The big questions
How can VAC make information about benefits more readily available to those who need it the most? How can the Veteran Service Experience be improved?
Why we need your feedback
Before we can answer these questions and make recommendations to improve the Veteran Service Experience, we need to understand more from your perspective.
What you can do
How services are being delivered to Veterans matters. Help improve the Veteran Service Experience by doing the following:
using our hashtag #VeteranServiceEXP (EXPserviceveterans); and
sharing and retweeting some of our posts.
Stay tuned for our first question on Monday, July 24, 2017!
Guy
---
Comments
Bruce said:
Make the Blue Cross Providers registered with VAC available online to VAC Clients. I know people calling VAC trying to get info and they only provide whom they recommend, If they call back at all. Seems to me we could skip the middleman approach if they are already registered to be paid.
October 3, 2017 12:27 PM
Office of the Veterans Ombudsman replied:
Hi Bruce, thank you for your comment. My office is taking a look at the Veterans Service Experience in 2017-2018 to reduce the level of complexity with regards to the benefits process. We'll keep you updated on our progress.
October 3, 2017 3:13 PM
Dave said:
Hi, the system has improved with services since i have been involved with the VAC for many moons. I have a very hard working CM, keeps me informed at all times. The worst that i have seen in years was since last year. Already released from CF and Due to many conditions (physical and mental) i can no longer work. However to attain this i had to be assessed by Veterans Vocational Rehabilitation Services which was not recommended by my phycologist due to my condition. However due to the way of the system i had to attend, could quit at any time. While on my assessment i had many physical barriers that i could not meet and also had a mental breakdown (second day). When i met the Veterans Vocational Rehabilitation Services Psychologist he asked me why i was being assessed, I was in no condition to perform the tests, he immediately declined me to do anymore testing. Knowing what my future was heading for , my wife started to attend college courses to upgrade her skills so we could pay for our families bills, two boys , one attending 3 year program in college and the other in high school. Months later I was determined DEC, My wife was just offered the education benefit . That was great but how long can it take who knows, we are still paying for her college because her offer has to go back in the system for her to be approved... Questions: 1/ Why did i have to attend Veterans Vocational Rehabilitation Services if i was already determined by my specialist that I should not work and had many physical conditions (awarded). I went through hell to do this "Check in the box" ( on the second day i had to ask the contractor to stop) 2/ If i am determined DEC and my wife if offered the education benefits why would she have to go back to the system for approval?? The system offered the benefit to her!!! These two questions should be simple to fix, all the paper work was already completed, met all the requirements and i have to go through the process again. The CM's need help, untie their hands, give them more tools to do their job, they know us better than the VAC System. Duplication is a real bottle necker Thank you God Bless
August 8, 2017 8:33 AM
fernboy said:
Je suis reconnu par le comité interdisciplinaire et mon psychiatre , et j'attend depuis mars 2010 pour régler mon A.I.E Reconnu invalide et incapacité permanente et totale. Que faut-il de plus...
August 1, 2017 1:33 PM
Tim said:
After an extensive Disability Benefit process, my application was finally reviewed and was given a Service Standard Start Date (SSSD) and was posted on my VAC registered user site. At this point, I was accepting of the service standards that were published in their official government site, I would check the site many times through the months that passed. Finally the day came and left. Although the VAC did state that they were experiencing a higher than normal volume of applications I was growing impatient and I decided to send a secure correspondence inquiring as to the current delay. The response was very discoursing and actually unacceptable. I was informed that "the VAC is currently processing application with a SSSD date of June 2016. I was absolutely shocked and actually quite disappointed with the Veterans Affairs. It is very clear that they intentionally miss lead the applicants by putting 16 weeks on their secure website when it is absolutely clear that they have no intentions of making their Service Standards. A deviation this large to their Service Delivery Standards is completely ludicrous. Applicants should be notified to expect 10 – 16 months (not weeks) Any website references to prior Service Level Standards should be immediately removed from their site as it also points to a 16 week processing time 80% of the time. Let's be upfront and honest. Most veteran applicants can work with the truth and members have made other financial commitments based on the expected processing time. Maybe it is time to hold people accountable and deliver the benefits at a faster pace including adopting some fast track strategies Veterans do remember!!!
July 21, 2017 1:14 AM
Office of the Veterans Ombudsman replied:
Agreed. I'm posting a blog today on this issue.
July 24, 2017 1:48 PM
Tony said:
100% of my VAC claims have been longer than 6 months from application to decision. I currently have a claim that is still at step 1 6 months after application and providing all relevant documents. For years now the refrain out of VAC is that they are understaffed and hiring more people. I am lucky, I can still work but many others can't and need that money, and support, to live.
July 17, 2017 5:11 PM
Todd Downey said:
I find it frustrating that it takes so long for a file to move through the system. I understand there are staff shortages and lots of cases in front of them, but it is the veterans and the members who are suffering. Speed up the process, hire more staff, eliminate steps, phone interviews, what ever is needed to make the process faster and smoother for the veterans.
July 14, 2017 3:58 PM
Tony said:
At some point understaffing is not longer a credible excuse. They have been understaffed for years and have been constantly "training new people". There is also a lot of misinformation and misdirection regarding their service targets. I have had 100% of my claims take longer than the 16 weeks and they haven't even been close to that target. If they can't make 16 weeks, give us a reasonable target they can meet. I am tired of excuses and so are most of the veterans I talk to.
July 14, 2017 12:00 AM
Marshall Dmytryshyn said:
My experience with VAC and the VRAB is an absolute sham and reruns of the keystone cops. This ministry is extremely understaffed and in many cases very poorly managed. In my many years as a General Manager and a member of the RCMP; I can with sincerity state that many would not be in my employ if my health would not have been taken by the Canadian Military. Thank-you for your attention. Regards,
July 11, 2017 1:25 PM
Office of the Veterans Ombudsman replied:
Thank you for your comment. We will take it into consideration as we continue our work on the Veterans Service Experience.
July 11, 2017 5:20 PM
Fred said:
Déception... j'ai osé demandé de changer de psychiatre à la clinic tso Depuit je n'ai pu de suivit, a par Pech (un organisme civil) Pour tout ceux qui pense changer de psychiatre dites vous que ACC va vous laisser à vous même, se n'est pas juste le psychiatre mais aussi l'infirmière et la travailleuse sociale que vous allez perdre... On nous dit; si sa va pas va à l'hôpital! J'y suis allez pour changer ma méditation . Ceux ci refuse car j'ai pas de suivit psychiatrique! De plus, j'aimerais bien aller en thérapie cependant il faut une référence d'un professionnel de la santé pour y allé ... alors encore la même affaire .... Il y a tu une fin à tout cela??
July 10, 2017 10:47 PM
Office of the Veterans Ombudsman replied:
Hi Fred,
Thank you for your comment. I recommend contacting our Office:
Telephone (toll-free): 1-877-330-4343
Email: VAC.OVOInfo-InfoBOV.ACC@ombudsman-veterans.gc.ca
July 11, 2017 5:19 PM
Wesley Davidson said:
The paperwork is overwhelming. To the point of me not bothering to do it. Reduce paperwork; recuring appointments and trips should be saved in myvacc and vet would just have to click on a radio button in their account rather than filling out the form each time with the same info. The criteria for benefits are so stringent that few qualify so its really not effective. Make benefits that help MOST veterans not a select few. Mental health access is difficult yet when VAC needs information it will only accept it from certain health professionals. i.e. If a veteran uses a social worker for EMDR to treat PTSD, if VAC wants information it would only accept it from a physiologist. So the veteran needs to find a physiologist and start treatment over. This will prevent some from going forward and could mean less benifits. Many veterans are not financially secure, plus all the different sources of income from VAC and SISIP programs can negativley affect their credit. Reinstate the pension and many financial issues in veterans lives would be managable. "We've been through the research but let's do another study/survey so we don't have to make a decision but look like we're doing something." This is how I feel about these studies, essential yes but repeatedly studying the same issue is not only redundant it takes away preciois resources. Have a culture of why veterans SHOULD have access to programs not focus so much on why they aren't eligible. A shift in thinking is needed at the senior levels in VAC or a change of staff. Time during adjudaction is wasted when adjudacators have to ask what certain CAF terms or jobs mean. Use veterans as advisors to the adjudacators. A type of translator if you will. The veteran could be utilized to help with files and clear up any confusion adjudacators may have with terms, jobs,etc.
July 10, 2017 8:33 PM
Office of the Veterans Ombudsman replied:
Thank you Wesley, we will take it into consideration as we continue our work on the Veterans Service Experience.
July 11, 2017 5:24 PM